...
Guidelines for the aggregation and exchange of Usage Data
Image Removed
Knowledge Exchange and Usage Statistics
...
| Date | version | Author | Description | Image Removed PDF |
| --- | --- | --- | --- | --- |
| 2010-05-26 | 1.0 | Peter Verhaar | Definitive version 1.0.; Comments made during the phone conference which took place on 25-05-2010 and which was attended by Thobias Schäfer, Hans-Werber Hilse, Jochen Schirrwagen, Marek Imialek, Paul Needham, Peter Verhaar, Maurice Vanderfeesten, Natalia Manola and Lefteris Stamatogiannakis | |
| 2010-05-18 | 0.9.5 | Peter Verhaar | DRAFT version 1.0 ; comments and layout improvements made by Jochen Schirrwagen, Max Kemman, Peter Verhaar and Maurice Vanderfeesten |   |
| 2010-04-24 | 0.9 | Peter Verhaar | Revised version, in which comments made by Benoit Pauwels, Hans-Werner Hilse, Thobias Schäfer, Daniel Metje and Paul Needham have been incorporated. |   |
| 2010-04-13 | 0.2 | Maurice Vanderfeesten | Added the sections based on the Knowledge Exchange meeting in Berlin. And filled in some additional information to these sections. |   |
| 2010-03-25 | 0.1 | Peter Verhaar | First draft, based on technical specifications from the OA-Statistics project (written by Daniel Metje and Hans-Werner Hilse), the NEEO project (witten by Benoit Pauwels) and the SURE project (written by Peter Verhaar and Lucas van Schaik) |   |
...
OAI-PMH is a relatively light-weight protocol which does not allow for a bidirectional traffic. If a more reliable error-handling is required, the Standardised Usage Statistics Harvesting Initiative (SUSHI) must be used. SUSHI http://www.niso.org/schemas/sushi/ was developed by NISO (National Information Standards Organization) in cooperation with COUNTER. This document assumes that the communication between the aggregator and the usage data provider takes place as is explained in figure 4.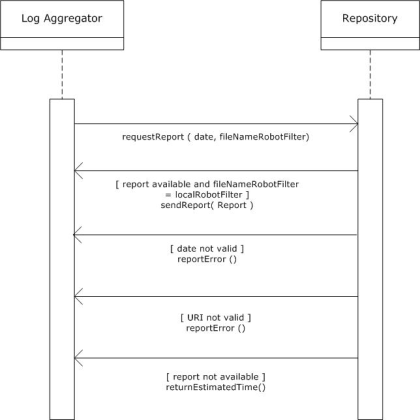 Figure 4.
The interaction commences when the log aggregator sends a request for a report about the daily usage of a certain repository. Two parameters must be sent as part of this request: (1) the date of the report and (2) the file name of the most recent robot filter. The filename that is mentioned in this request will be compared to the local filename. Four possible responses can be returned by the repository.
...