Section
Column
Wiki Markup
h1. {anchor:Document information}Document information | *Title:* \\ *Subject:* \\ *Moderator:* \\ *Version:* \\ *Date published:* \\ *Excerpt*: {excerpt}The Digital Author Identifier (DAI) is a unique national number assigned to every author who has been appointed to a position at a Dutch university or research institute or has some other relevant connection with one of these organisations. The DAI brings together various different ways of writing the author's name and distinguishes between authors with the same name. [Read more...|http://www.surffoundation.nl/en/themas/openonderzoek/infrastructuur/Pages/digitalauthoridentifierdai.aspx] {excerpt}\\ \\ (Optional information) \\ *Type:* \\ *Format:* \\ *Identifier:* \\ *Language:* \\ *Rights:* \\ *Tags:* {page-info:labels}\\ |
Anchor
| | |
| --- | --- |
| | Document information |
| | Document information |
Document information
Title:
Subject:
Moderator:
Version:
Date published:
Excerpt:
Excerpt
The Digital Author Identifier (DAI) is a unique national number assigned to every author who has been appointed to a position at a Dutch university or research institute or has some other relevant connection with one of these organisations. The DAI brings together various different ways of writing the author's name and distinguishes between authors with the same name. Read more...
(Optional information)
Type:
Format:
Identifier:
Language:
Rights:
Tags:
Document History
| Date | Version | Owner | Changelog |
| --- | --- | --- | --- |
Abstract
...
De Digital Author Identification (DAI) is een uniek landelijk nummer voor elke auteur, met een aanstelling of een andere relevante band bij een Nederlandse universiteit, hogeschool of onderzoeksinstituut. Het gebruik van de DAI is geregistreerd bij het het College Bescherming Persoonsgegevens (CBP) en de DAI is zie http://www.cbpweb.nl/asp/ORDetail.asp?moid=808d858982 . Daarnaast is de DAI voorbereid op de internationale ISO standaard "ISNI" (International Standard Name Identifier).
...
OCLC is responsible for technical application management (BiSL: Application management) of the GGC and by that, the NTA. The partner who is responsible for the functional management (BiSL: Business information management) is still under discussion at the UKB meetings (UKB is the collaboration between the research libraries and the National library). The National Library is a candidate. The CRIS systems are under the responsibility of the universities and research institutes.
legal documents
The Nation Thesausus for Author names is protected by law. The only members who share the GGC can access and use the NTA. The exact words can be read here on the website of the Dutch Data Protection Authority. (CBP; College Bescherming Persoonsnamen)  http://www.cbpweb.nl/asp/ORDetail.asp?moid=808d858982
data range
The GGC is part of a generic bibliographic cataloguing database, thus the NTA contains a broad spectrum of authors from novelists to scientific authors.
By design a DAI is a promoted Pica Production Number (PPN) resulting from a positive match between a person identified by a record in the NTA and an appointment registered in the local CRIS system. This makes that a DAI can only be assigned to researchers appointed at a university.
The match against the NTA theoretically also implies that the researcher must have previously published to be included in the NTA. However when an NTA record has not been found when trying to create match with a local CRIS record, an NTA record may be created from the CRIS record in order to still be able to mint a DAI.
...
Click here to read more about info:eu-repo/dai/nl/
In practice the DAI can be used to unambiguously retrieve publications from one author across different systems. Click for example in NARCIS.
...
The DAI OWL file can be found at http://purl.org/info:eu-repo/dai#
Identifier workflow
(better explanation needed!)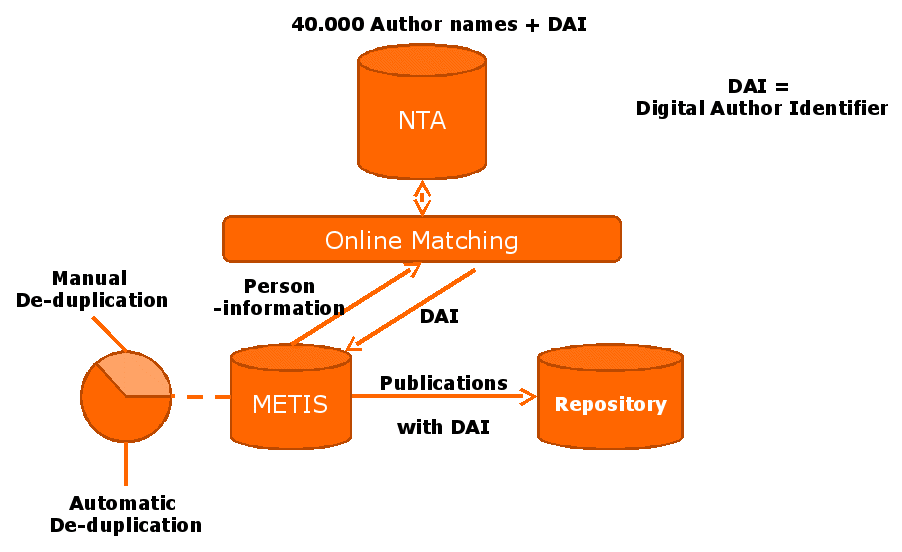 Overview of the Technical DAI Infrastructure
Organisational overview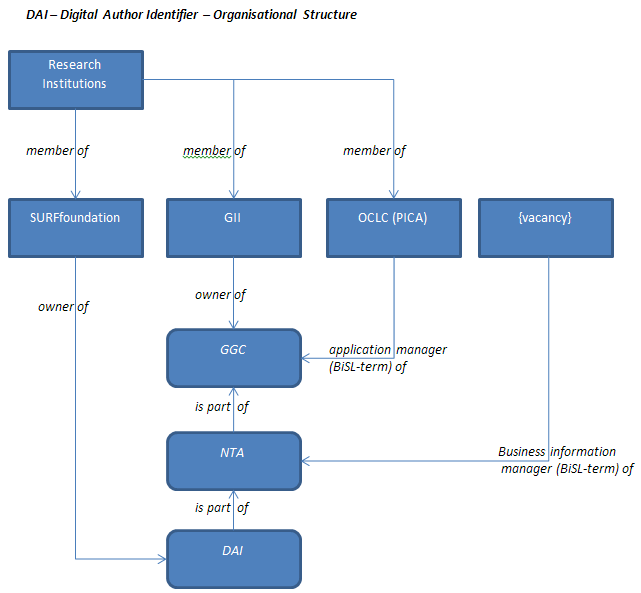 Systems linked to the DAI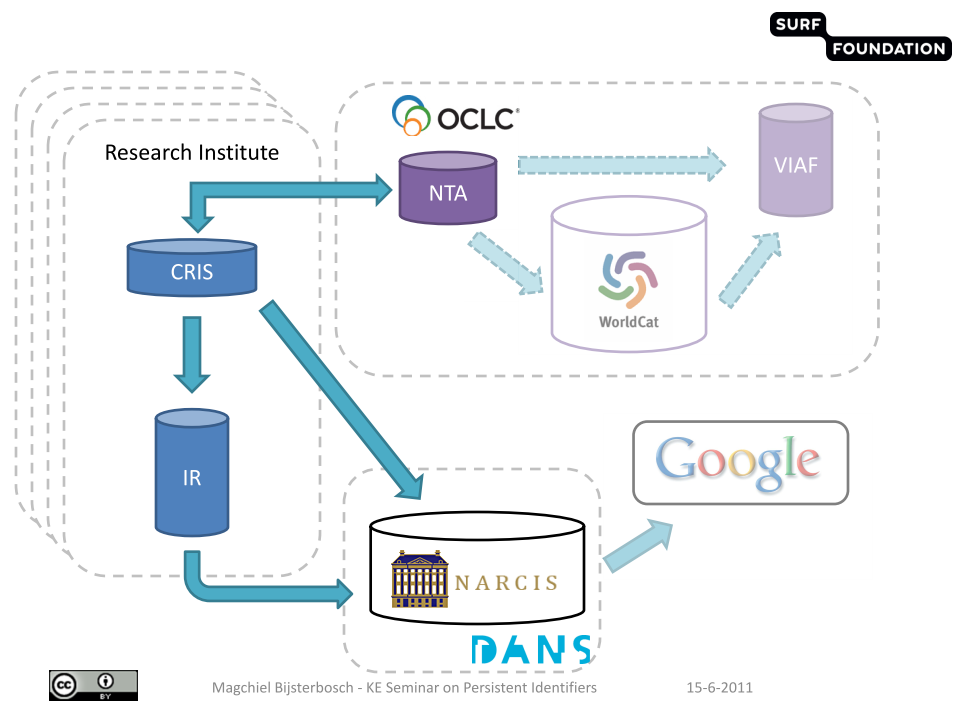 Image Added
document below https://docs.google.com/document/pub?id=1bitF0Ylh6GUEaWYGlFE8OQTgHnNhiESk-ktT_FRUWQo