Section
Column
Wiki Markup
h1. {anchor:Document information}Document information | *Title:* \\ *Subject:* \\ *Moderator:* \\ *Version:* \\ *Date published:* \\ *Excerpt*: {excerpt}The Digital Author Identifier (DAI) is a unique national number assigned to every author who has been appointed to a position at a Dutch university or research institute or has some other relevant connection with one of these organisations. The DAI brings together various different ways of writing the author's name and distinguishes between authors with the same name. [Read more...|http://www.surffoundation.nl/en/themas/openonderzoek/infrastructuur/Pages/digitalauthoridentifierdai.aspx] {excerpt}\\ \\ (Optional information) \\ *Type:* \\ *Format:* \\ *Identifier:* \\ *Language:* \\ *Rights:* \\ *Tags:* {page-info:labels}\\ |
Anchor
| | |
| --- | --- |
| | Document information |
| | Document information |
Document information
Title:
Subject:
Moderator:
Version:
Date published:
Excerpt:
Excerpt
The Digital Author Identifier (DAI) is a unique national number assigned to every author who has been appointed to a position at a Dutch university or research institute or has some other relevant connection with one of these organisations. The DAI brings together various different ways of writing the author's name and distinguishes between authors with the same name. Read more...
(Optional information)
Type:
Format:
Identifier:
Language:
Rights:
Tags:
Document History
| Date | Version | Owner | Changelog |
| --- | --- | --- | --- |
Abstract
...
Click here to read more about info:eu-repo/dai/nl/
In practice the DAI can be used to unambiguously retrieve publications from one author across different systems. Click for example in NARCIS.
...
The DAI OWL file can be found at http://purl.org/info:eu-repo/dai#
Identifier workflow
(better explanation needed!)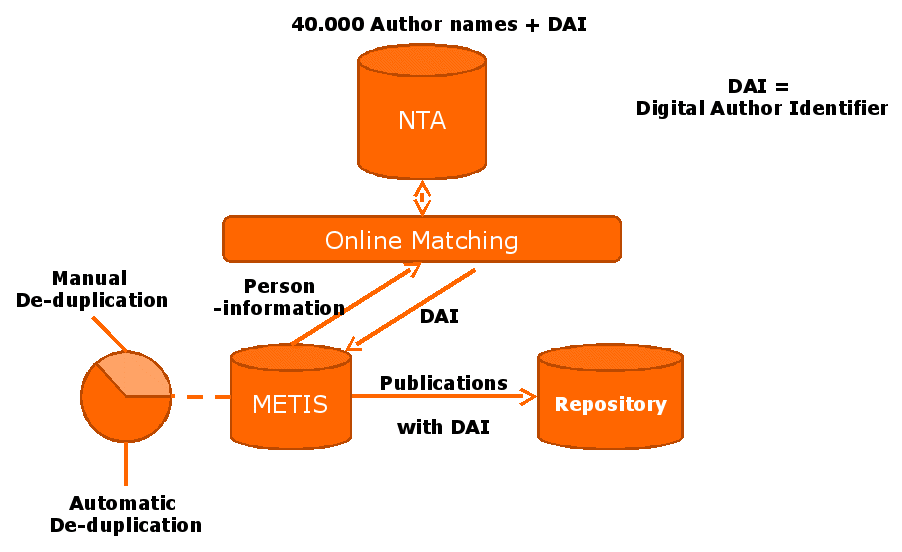 ...
document below https://docs.google.com/document/pub?id=1bitF0Ylh6GUEaWYGlFE8OQTgHnNhiESk-ktT_FRUWQo
...