Skip to end of metadata
Go to start of metadata
Inleiding
SURFnet biedt voor managed domeinen de mogelijkheid om geheel geautomatiseerd DNSSEC in te schakelen. SURFnet zorgt er dan geautomatiseerd voor dat DNSSEC-informatie aan uw domein wordt toegevoegd en zorgt bovendien dat de hiervoor benodigde aanpassingen in de registratie van uw domein bij de registry van het .nl-domein (SIDN) worden doorgevoerd.
Aan de slag
Ga in het menu naar DNS beheer > Zones.
Klik op de zone waarvoor u DNSSEC wilt inschakelen.


In het vak DNSSEC rechtsonder geeft het grijze schild aan dat DNSSEC nog niet is ingeschakeld voor deze zone.
Klik op DNSSEC inschakelen.

 
 
Vink DNSSEC voor de zone <gekozen zone> aanvragen aan en klik op OK.
In het vak DNSSEC ziet u dat de inschakeling loopt: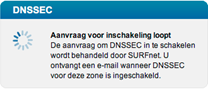 De inschakeling wordt gecontroleerd en verder in gang gezet door een beheerder van SURFnet. Het kan maximaal enkele dagen duren voordat de inschakeling wordt afgerond en het domein volledig van DNSSEC voorzien is.
Zodra de inschakeling is afgerond kunt u dit zien in het detailoverzicht voor de DNS-zone; in het vak DNSSEC is dan te zien dat DNSSEC is ingeschakeld: er verschijnt een blauw schild: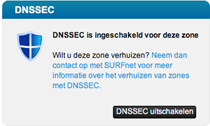 Zoek in deze wiki:
Snel naar een ander onderdeel van de handleiding:
The root page Handleiding could not be found in space SURFdomeinen.